Press & Notices
Announcements
THE

PHILIPPINE

CONSULATE

GENERAL


WILL

BE

CLOSED

ON:
Monday, 01 May 2017
(Labor Day-Philippine Holiday)
and
Monday, 22 May 2017
(Victoria Day-Canadian Holiday)
Regular business hours will resume on Tuesday, 02 May 2017 and Tuesday, 23 May 2017, respectively.
FOR EMERGENCY ASSISTANCE, PLEASE CALL TEL. NO. 416-346-3268 AND LEAVE YOUR MESSAGE TO ENABLE THE CONSULATE TO RETURN YOUR CALL AS SOON AS POSSIBLE.
Continue Reading...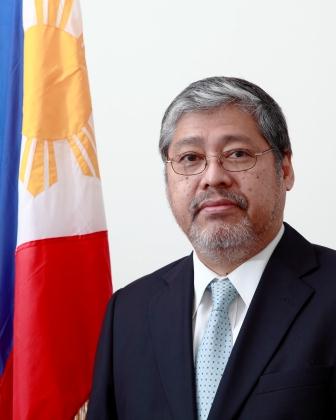 ENRIQUE

A.

MANALO




ACTING

SECRETARY

OF

FOREIGN

AFFAIRS


(Click image for Profile)
Continue Reading...
Guidelines on the Availment of Awards and Incentives for Overseas Filipino Centenarians under R.A. 10868 and its Implementing Rules and Regulations (An Act Honoring and Granting Additional Benefits and Privileges to Filipino Centenarians, and For Other Purposes)
Continue Reading...
NOTICE TO THE PUBLIC
The Philippine Consulate in Toronto is pleased to inform the Filipino Community in Canada of the 2016 Revised Rules of Procedure for Small Claims Cases (A.M. No. 08-8-7-SC), which increased from Php100,000 to Php200,000, exclusive of interest and costs, the amount or value of the claim falling within the jurisdiction of small claims courts.
Continue Reading...
REPUBLIC OF THE PHILIPPINES
DEPARTMENT OF FOREIGN AFFAIRS
BOARD OF FOREIGN SERVICE EXAMINATIONS
A N N O U N C E M E N T
The Board of Foreign Service Examinations, pursuant to the provisions of the Foreign Service Act (R.A. 7157) of 1991 and the Revised Administrative Code of 1987, announces the holding
of the 2017 FOREIGN SERVICE OFFICER (FSO) EXAMINATION to recruit candidates for appointment to the position of Foreign Service Officer, Class IV.
Continue Reading...
Continue Reading...
For purposes of the 13 May 2019 Philippine mid-term national elections, all Filipino citizens who are at least eighteen (18) years of age on 13 May 2019 are encouraged to register at the nearest embassy/consulate or other registration centers authorized by the Commission on Elections (COMELEC) to be able to vote overseas for Senators and Party-List Representatives.
Continue Reading...
We are pleased to announce that the voter IDs of registered voters who filed their applications for registration from 2009 – 2015 are now available for pick up at the Philippine Consulate General in Toronto.
You may claim your voter's ID either personally or through your authorized representative.
Continue Reading...
The Philippine Consulate General in Toronto is pleased to inform the public that effective January of 2017, the Consulate will observe long hours every second Friday instead of every third of the month. It will be open to the public from 9:00 a.m. to 8:00 p.m. on the said days, an hour longer than previously observed.
Continue Reading...
The Bangko Sentral ng Pilipinas wishes to remind the public regarding the demonetization of old banknotes belonging to the New Design Series (NDS), as part of BSP's objective to preserve the integrity of the Philippine currency.
Continue Reading...